***2022 Update*** The next CIPP/E exam update takes place on October 3rd 2022. We have summarised the changes here. We have also compiled advice from certified professionals, our own detailed research and experiences of our community members to create the Ultimate CIPP/E Study Guide. Read this and best of luck with your CIPP/E studies!***
From September 1st, the IAPP will update the CIPP/C, CIPP/US, CIPM and CIPP/E exams so they can stay current with changes in the privacy landscape. We have outlined some of these key CIPP/E exam updates in this article.
Number of questions on CIPP/E exam
The total number of questions in the CIPP/E exam will not change, however, the allocation of the questions between the three parts will be different. Here are the minimum and maximum questions from each part before and after September 1st 2020

The total number of questions coming from Part I will stay the same but within that part, there will be fewer questions from sections A and B (Historical context and EU institutions) and more questions from section C (Legislative Framework)
Most importantly, the biggest change is in part II, where the minimum number of questions from this area increase from 40 up to 42 and the maximum, from 66 to 69. Within this section, there has been a shift in importance for some topics. For example, the biggest change in question numbers is in these sections:
In Section F – Data Subject Rights, increases from 3-5 questions,

to 8-11

Section G – Security of Personal Data reduces from 8-12 questions,

to 5-9

In Section I – International Data transfers reduces from 7-11 questions, to 4-6
As a result of the increased number of questions in part II, the maximum number of questions on Compliance with European Data Protection law (Part III) will be reduced from 25 to 18
Here's a comparison table showing the maximum and minimum number of questions on the current exam vs. after the update so you can see very easily at a glance if you need to change the focus of your studies. We have listed the newly added topics in orange
Suggested order for studying chapters of textbook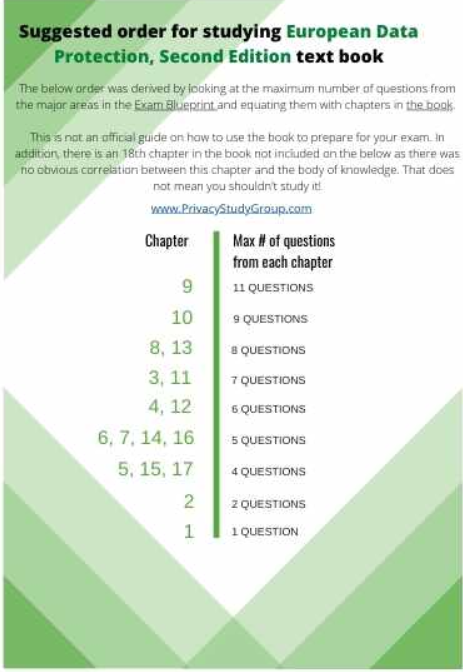 Here's a suggested order for studying the chapters in the IAPP textbook, European Data Protection, Second Edition. This was derived by looking at the maximum number of questions from the major areas in the Exam Blueprint and equating them with chapters in the book so you know where to focus your efforts.
Please note, this is not an official guide on how to use the book to prepare for your exam. One other point to note, there is an 18th chapter in the book not included on the guide. This is because there was no obvious correlation between this chapter and the body of knowledge. However, that does not mean you shouldn't study it!
New CIPP/E exam topics
The IAPP has added three new subject areas to the CIPP/E body of knowledge and exam blueprint
Part II – European Data Protection Law and Regulation

Section H – Accountability requirements.

Item 6 – Auditing of Privacy Programs
Part III – Compliance with European Data Protection Law and Regulation

Section B – Surveillance Activities.

Item 5 – Biometrics/Facial Recognition

Section D – Internet Technology and Communications.

Item 5 – Artificial Intelligence (AI)
In addition, be prepared for updated content in the below areas, but we don't have any detail from the IAPP on the extent of this:
The third countries concept
Convention 108
EDPB Guidelines on the territorial scope of the GDPR
Processing of personal data through video devices
Roles of the lead supervisory authority
The Right to be forgotten in search engine cases
Data security issues and Article 32
We have prepared a resource guide of suggested readings so you can deepen your knowledge on the three new areas and the updated content.
Note: This resource guide is not part of the IAPP official list of resources so is not a definitive document. It is simply a list of useful links to supplement your studies
Test your knowledge and get CIPP/E exam tips from our community
Join the conversation about these CIPP/E exam updates, get study tips, trial exam discounts and more in our private Facebook group, CIPP/E Study Group.
Group members have access to a generous discount on the trial exam from PRIVACY-exam.com. This is a great opportunity to test your knowledge and go into your certification exam feeling completely prepared and above all, ready to pass with confidence.
The trial exam is fully up to date with 90 challenging questions and specially written case studies so you can really test your understanding of the materials. Find out more here and read the pinned announcement post in our Facebook group for access to the code. Best of luck!