This CIPP/E Study Guide post contains affiliate links. When you buy through links on our site we may earn a small commission. As an Amazon Associate we earn from qualifying purchases. This helps us keep our website and study groups up and running at no additional cost to you.
Introducing the Ultimate CIPP/E Study Guide for 2023 (and beyond!). Are you looking to ace the Certified Information Privacy Professional/Europe (CIPP/E) exam in 2023? You've come to the right place.
Here, you'll find a comprehensive, free study guide compiled from my own experience studying for and taking the CIPP/E exam as well as the experiences shared by hundreds of members of our study group community.
Privacy Study Group is not affiliated with or endorsed by the International Association of Privacy Professionals (IAPP). Our team has carefully curated this guide to provide you insights, reviews, tips and tricks to help you prepare for (and pass!) this challenging exam.
What is the CIPP/E?
The Certified Information Privacy Professional/Europe (CIPP/E) is a globally-recognised certification exam developed by the International Association of Privacy Professionals (IAPP). The IAPP CIPP program includes a US certification (CIPP/US) and a European one (CIPP/E). There are also certifications for Asia (CIPP/A) and Canada (CIPP/C).
The US and European CIPP certifications are ANAB accredited. The CIPP/E certifies that holders have demonstrated knowledge and expertise in European data protection law and practice.
The CIPP/E curriculum covers Europe-wide (GDPR) and local data protection laws. It includes critical topics like data protection concepts and principles, International data transfers, Schrems II, the history of European data protection law and compliance with regulations.
There are no experience or educational prerequisites to taking the exam. The CIPP/E exam is updated annually to reflect changes in the privacy landscape.
At the time of writing, the cost of taking the exam was $550. Upon passing, you must pay a Certification Maintenance Fee of $250. If you are an IAPP member, the fee is included in your annual membership. If not, it needs to be paid every 2 years.
You can take the exam online via Pearson VUE or in person at an exam centre. It is available in English, French and German and you will get your result immediately upon finishing the exam.
You can read more on purchasing, scheduling, cancelling your exam and the scoring process in the Certification Candidate Handbook. Read this carefully before purchasing your exam.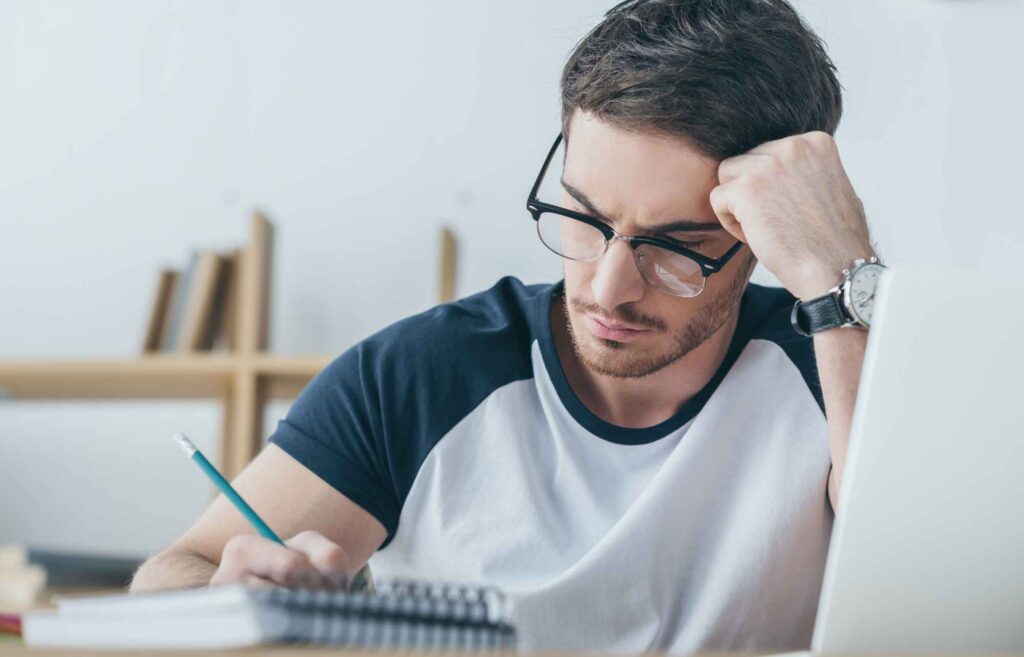 Is CIPP/E Certification Worth It?
Yes, CIPP/E certification is definitely worth it. Benefits of earning this qualification:
Demonstrates that you have a comprehensive understanding of European data protection law and practice.
Shows employers, clients, and peers that you are an expert in the field of privacy law and can effectively analyze, interpret, and apply GDPR requirements
Can help set you apart from other job applicants and make you more attractive to employers
Shows commitment to a future career if you are a new entrant to the industry
Acts as confirmation of your knowledge if you already have years of work experience in the field
Shows that you have stayed up to date and well-versed on the latest developments in privacy and data protection across Europe
Can be a stepping stone to a career as a Data Protection Officer (DPO) if you also take the Certified Information Privacy Manager (CIPM) certification
All in all, it's definitely worth investing the time and effort into getting CIPP certified.
Frequently Asked Questions about the CIPP/E
What's the difference between CIPP/E and CIPM?

The CIPP/E certification focuses on demonstrating knowledge of data protection laws and regulations in Europe. Certified Information Privacy Manager (CIPM) focuses on developing leadership skills for managing and leading an organization's privacy program. Holding both certifications equips you to fulfil the Data Protection Officer (DPO) requirements per the GDPR
How long should I study for the CIPP exam?

The IAPP recommends allowing 30 hours to study for the exam. However, our community members report spending anywhere from 30-80 hours studying for the CIPP/E. This varies depending on your level of prior work experience, personal studying style and family/work commitments. A realistic average seems to be 50-60 hours.
How many questions are on the CIPP/E?

The exam has 90, multiple choice questions of which 75 are scored. There is one correct answer and 3 plausible, but incorrect answers. Some questions relate to a scenario which you will read in order to determine the correct answers.
How long does the CIPP/E take?

You have 2.5 hours to complete the CIPP/E exam. There is an optional 15 minute break half-way through but the clock does not pause for this – it is part of the 2.5 hours. If you take the break, you must submit the first half of your exam and you cannot go back to these questions upon return from your break. 
Is the CIPP/E exam hard? 

The CIPP/E exam is certainly challenging. The scoring system is complex and not very transparent, so it can be difficult to know exactly how well you need to do in order to pass. The exam is a test of understanding rather than memorising.
What is a passing score for CIPP?

From the IAPP certification candidate handbook: "All IAPP exams have a set cut score that is determined by the Exam Development Board and psychometric analysis. This cut score is a set number of correctly answered scored questions and is then set to 300 on our scale of 100-500 with a score of 300 and above being passing"
Scheduling the CIPP/E Exam
Our Study group members generally recommend scheduling the date and time for your exam as soon as possible. This gives you something to work towards and can focus your attention.
There is no set list of exam times and dates. Purchase the exam through the IAPP then you can look up exam centers close to you and choose a date and time slot from what's available. Alternatively, you can check for available online proctored sessions. There are over 6,000 test centers worldwide.
Once you book in the date and time for your exam, you can reschedule any time up until 48 hours before the exam time (for a physical exam location) or up to 15 minutes past the appointment time for an online exam. You can reschedule as often as you like.
Do take note and check your confirmation email to make sure the date and time are exactly as you expect.
***Once you have purchased the exam, you must schedule and take it within one year of purchase. More information on the examination process is here – including what's allowed and what is not allowed when taking the exam***
How do I prepare for the CIPP exam?
If you are short on time or already have lots of relevant experience, here are the basic steps you should take when studying for the CIPP/E. We highly recommend you read on beyond this section, as the bare minimum tasks won't usually be enough for most candidates to pass.
Firstly, join our CIPP/E Study group on Facebook. This is a welcoming, supportive community of exam candidates and certified professionals. We have almost 5,000 members, including hundreds who have shared their preparations, resources, tips and experiences of the exam. Additionally, certified professionals and industry veterans generously share their knowledge and experience when exam candidates post their questions.
The IAPP website should be your next stop on your CIPP/E exam preparation journey. They have a very thorough Glossary of Privacy terms, the Body of Knowledge, the Exam Blueprint and a short CIPP/E Study Guide available to download. The Body of Knowledge is a list of all the concepts and topics you need to know to pass. The Exam Blueprint shows how many questions from each topic area will be on the exam. These documents are also available in French and German.
Continue reading for links (and discounts!) for other useful resources.
CIPP/E exam books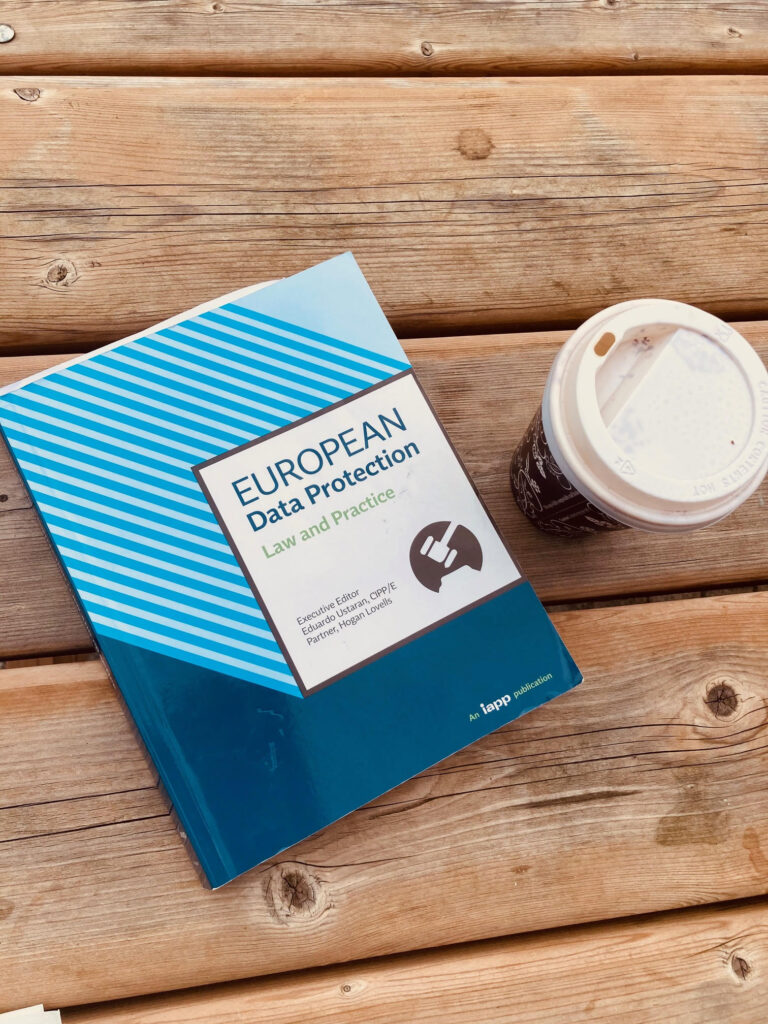 Firstly, the starting point for the CIPP/E exam is the IAPP recommended text, Ustaran, Eduardo et al. European Data Protection: Law and Practice, Third Edition Portsmouth: IAPP Publications, 2023. This book is available from the IAPP store in print or digital format and in English, French or German.
In my experience, I feel this is the most fundamental resource you'll need for the exam if you are self-studying. If you are taking a training course, you may not need to purchase the book in order to pass the exam, however, I would still recommend buying it. After I got my CIPP/E qualification, I found this book to be a really useful reference tool in my day-to-day GDPR consulting work.
Once you have the book, you'll want to decide how much time to spend covering each chapter. You should take your own knowledge and experience into account when deciding this, but we have also prepared a guide to help you.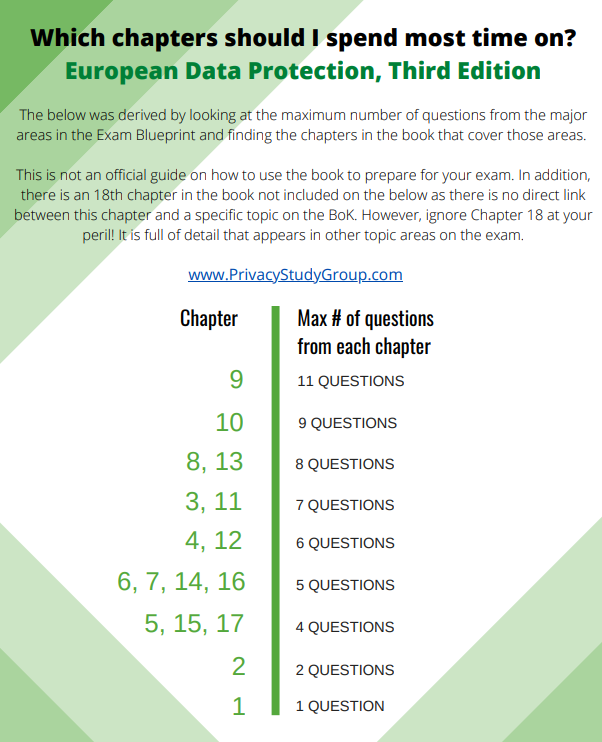 We endeavour to direct you towards additional readings to help fill those gaps whenever we can. The current book was published in the first quarter of 2023 and the exam will next be updated in October 2023
Optional additional reading
Some of our community members used other books to supplement their studies.
First up, available from Amazon, "Real CIPP/E Prep: An American's Guide to European Data Protection Law And the General Data Protection Regulation (GDPR)" by Gordon Yu. Our members mostly used this to get an overview of the GDPR and as a "nice-to-have" supplement to the main textbook.
The book is appealing because it includes 60 sample questions. Please note however, the current edition is from 2018 so may not perfectly reflect today's exam content. Nevertheless, some comments from our group members:
"only contributed a little bit to my knowledge."
"by itself, really isn't enough"
In addition, one member also noted some errors and typos in the book.
This book is a great, free resource: Handbook on Data Protection Law by EU Agency for Fundamental Rights and Council of Europe. This book was written for legal practitioners but many of our members have found it helpful.
Not only does it goes into great detail on the origins and background of European data protection law, but it also offers case law examples. It's available to download for free or you can order a physical copy and pay for the postage.
Learning the GDPR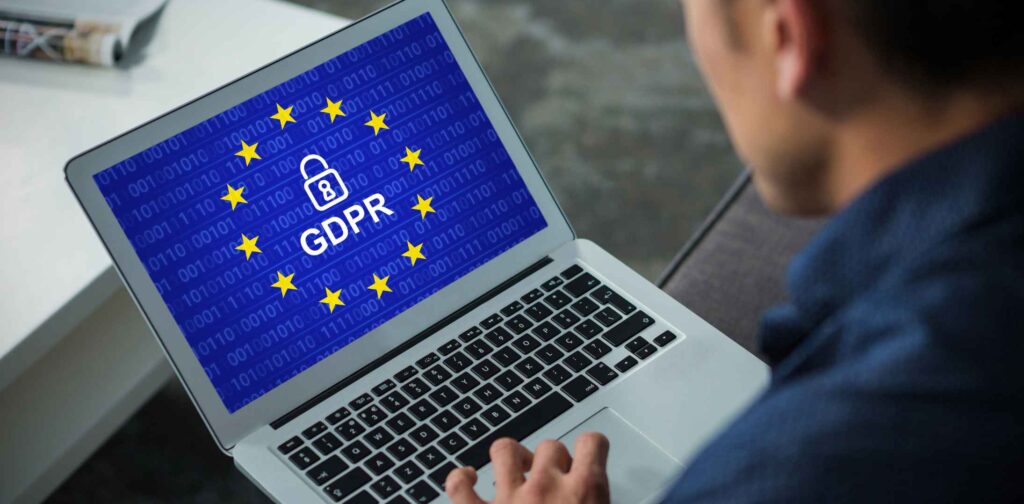 Knowledge of the General Data Protection Regulation (GDPR) is fundamentally important and no CIPP/E Study Guide would be complete without including resources to learn and understand this.
The IAPP textbook covers the contents of the GDPR in detail. However if you have the time you should refer often to the text of the regulation. Or indeed, read the entire thing!
Depending on your learning style, you may wish to access the GDPR in different ways. Most straightforward, is to download the full GDPR text in this PDF.
***Group member tip – If English isn't your native language compare the GDPR in English and your own language. The concepts are the same but the structure of the sentences might differ by a lot***
GDPR apps and websites
There are also easily searchable versions online with tables of contents to jump quickly from section to section. We like this site which also includes some analysis on key issues.
Some people like to browse and read on-the-go and there is a great mobile app for this by DLA Piper. It's called Explore GDPR and is available for free, in 16 languages on Apple or Android devices.
This app links articles and recitals to show how they are related. Additionally, it links GDPR articles to the corresponding articles in its predecessor – the EU Data Protection Directive. Following Brexit, it has also been updated to include the separate UK GDPR
GDPR in charts
Our favourite way to absorb all the dense, detailed text of the GDPR, is to view it in chart format. Data Protection Law in Charts by Federico Marengo, is a visual guide to the General Data Protection Regulation. This ebook collection of charts provides a clear, easy to read presentation of the main legal provisions, explanations and case law.
Visualising the GDPR this way will help you to easily remember and interpret the text. It is an invaluable tool for anyone studying for the CIPP/E or for those in daily practice looking for a quick-reference guide. You can get 10% off this ebook with the code: privacystudygroup. You can view sample pages and purchase the Data Protection Law in Charts ebook here.
GDPR video
If video is your preferred learning tool, Phil Lee's, "The new EU General Data Protection Regulation in Under 60 Minutes", comes highly recommended by our group members. This is particularly beneficial for those coming from a non-privacy background or those starting with zero knowledge of the GDPR.
EDPB publications
The European Data Protection Board (EDPB) was established by the GDPR in 2018 and is a successor to the Article 29 Working Party (WP29). The Board issues opinions, recommendations, best practices and guidelines "to promote a common understanding of European data protection laws".
In October 2022, ten EDPB guidelines were added to the CIPP/E body of knowledge. These are essential reading as they can now be examined on the test. Our community members repeatedly say that reading these documents (plus cases and examples within), has been beneficial when taking the CIPP/E exam.
You can find all the documentation on the official EDPB website. We have also provided links to each guideline below:
Summaries of EDPB Guidelines
If you are short on time or the additional reading of all of these guidelines seems daunting, you could consider this set of CIPP/E revision notes from our partner, Inhousew. This is a full set of CIPP/E revision notes and includes summaries of the EDPB guidelines that are on the Body of Knowledge. Use code PAGEGROUP10 at checkout for a 10% discount
CIPP/E training Courses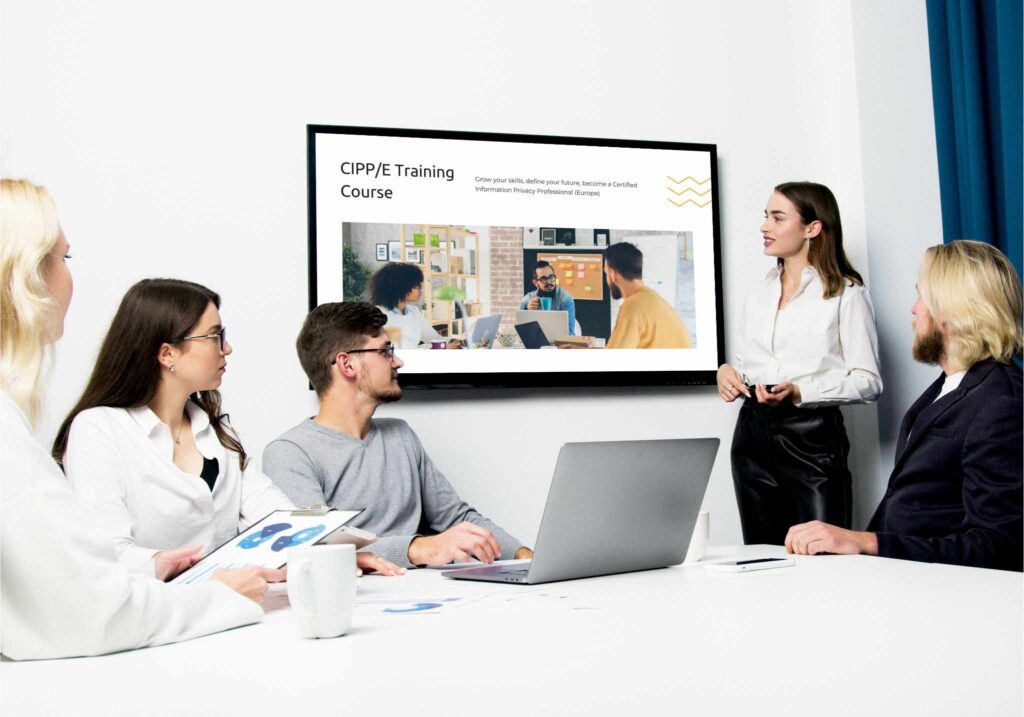 In the previous version of this CIPP/E study guide, we did not include any training courses in our recommendations. Why? Well, we had limited information because there were very few courses on the market and because the majority of our community chose to self-study instead of taking a course.
We have seen a major shift in this pattern in the past 2 years and are glad to say there are now many course options available to suit all learning styles and budgets. While self-studying is still a great option for those with lots of time or a small budget, taking a course can offer significant benefits.
We have written a step by step guide to finding the best CIPP/E course for those who wish to know more but will briefly cover some options here too.
IAPP CIPP/E training courses
These are available in person or virtual with a live instructor or as self-paced online courses. I took the official IAPP online self-paced CIPP/E course when I was studying for my exam.
I was completely new to the world of privacy and data protection and found this course provided a high level overview suitable for a total beginner but did not feel like it prepared me for the exam. I still had to do many hours more studying using books and other resources.
Our group members said "I did pay for the IAPP online course but quickly abandoned it – it's only useful as an intro, not thorough enough to help you pass" and "The online training of IAPP is too basic to take the exam"
My personal experience has been the same as many of our group members – those who did take a course, seemed to do as much extra work (reading books, articles, watching videos) as those who did not.
Of those who did take the official IAPP training, the ones who took the online course (self-paced, no interaction) found this less useful than those who took an in-person or live online course.
Having an instructor to speak to or a live class to hold discussions with seemed to be of more benefit. In particular if the trainer provided sample questions or extra readings for the students.
22Academy CIPP/E training courses
22Academy provides a huge selection of courses completely tailored to your level of experience so you don't waste time and money purchasing more than you need. This is a great option for people who are already working in the fields of privacy or data protection.
You can choose from Beginner, Intermediate or Advanced CIPP/E courses and if you don't know which one you should get, there is a handy free assessment tool to help you pick.
If you don't need a full training course, 22Academy also offers focused courses which are deep-dives into specific topics from the CIPP/E body of knowledge. These are great if you have been working in the industry and are very experienced in some topics but not in others.
They are also really useful for anyone who has previously failed the CIPP/E exam and just needs to focus on one particular area to prepare for the re-take.
One thing I really like about these courses is the audio is available as a playlist that you can listen to while driving or out for a walk. This is a great way to keep up with studying if you don't have time to sit down in front of your computer.
We go into more detail and review the contents of these courses in our article on choosing the best CIPP/E training course.
Our readers can get 25% off 22Academy training courses or trial exam by using the code STUDYGROUP25 at checkout.
Inhousew CIPP/E training course
Inhousew offers a comprehensive CIPP/E Preparation Package including self-paced video lectures, downloadable lecture slides, revision notes and 90 question PDF mock exam plus answer key. I liked the concise summaries of EDPB guidelines in this course as the full guideline documents are quite long and detailed.
Our readers can avail of a 25% discount on the full course by using code PAGEGROUP25 at checkout. The revision notes (incl. EDPB guideline summaries) and mock exam are available to purchase as stand-alone products and there is a 10% discount on these using code PAGEGROUP10
As mentioned above, there are now many training course options on the market. In this guide, we have only included courses that we have actually used ourselves.
Test your knowledge: CIPP/E sample questions and trial exams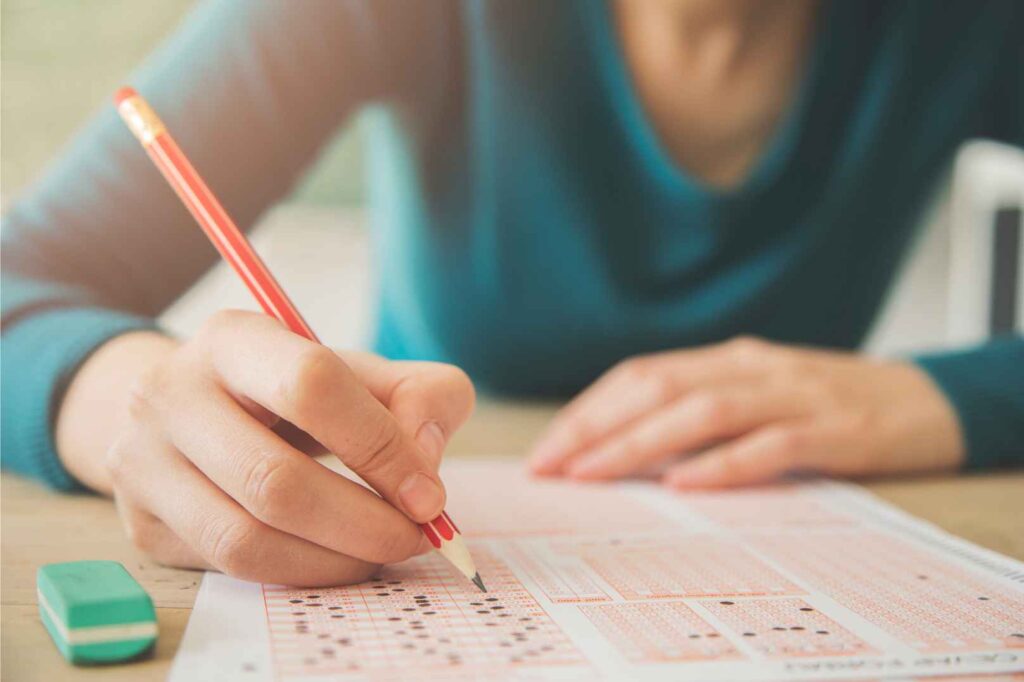 There may come a point in your studies where this thought pops into your head; "How do I know if I'm ready to take the exam? I feel like I've read everything and can't absorb any more information but still don't know if I'll pass". If you've reached this stage, it's time to test your knowledge.
Hundreds of people in our community have shared their experiences and opinions on various methods of doing this. Here's a summary of the main options:
Inhousew CIPP/E Mock Exam
Inhousew has a 90 question PDF mock CIPP/E exam plus answer key. We reviewed this exam and found it to be similar in standard and style to the actual CIPP/E exam. It is also fully up to date with the most recent (October 2022) version of the body of knowledge. The mock exam is available to purchase as a stand-alone product and there is a 10% discount for our Group members with the code: PAGEGROUP10
Check it out on the Inhousew website. Inhousew also has a free 10 question and answer pdf download here too, this will give a good idea as to what you will get when you buy the mock exam.
22Acadamy CIPP/E Trial Exam
22Academy offers a CIPP/E trial exam and personalised results. This is a firm favourite of our group members. What I liked most when I took this exam was how much it reflected the real-world conditions of the actual exam. It's timed, it's online, you can flag questions and go back to review your answers. This exam is also fully up to date with the current (October 2022) version of the body of knowledge
At the time of writing, 100% of candidates who took the exam along with the analysis of their results, went on to pass the real thing. Take 25% off by entering the code: STUDYGROUP25 at checkout.
IAPP CIPP/E Sample questions
The IAPP now has their own CIPP/E practice exam, available from the IAPP Store. This is a PDF of 90 questions and answers plus an explanation for each. It's very affordable and IAPP members get it at a $10 discount. Our group member feedback on this has been generally positive. It contains some actual questions that have been retired from the exam. There is no information on the IAPP site as to when this exam was last updated.
CIPP/E sample question books
Two very popular choices of book with our privacy community members are:
A Collection of Practice Questions on European Data Protection Law by Dr. Majid Hatamian
Our study group members have posted a lot of positive feedback about this book. Some called it "invaluable" and "really helpful". One member said: "You pick up so many peculiarities of the test along the way (eg. translation issues/awkward phrasing / threshold points / double and triple negatives etc.)."
Another group member reported this sample "comes so close to the actual questions" and another noted the book "provides great explanations". Another said: "by far the most useful questions and answers I've done, despite there being a few minor mistakes here and there".
One point to note about this book is that it was last updated in August 2021. This book may not be as up to date as some other resources, however, it does contain 180 questions which is double what's available in the online and PDF exams mentioned above.
Three CIPP/E practice exams: 270 questions, not by the IAPP by Franklin Phillips
Community members liked this book for the huge number of questions it provides. There are three, 90 question exams in the book. One member reported "I found the Philips practice exam a helpful way to tie everything together and found the difficulty level more or less in line with the actual test"
Another said "worth every penny. It really helped". However, a number of group members pointed out the questions were "strange" or "weirdly worded" in this book. The last update to this book was in December 2021.
Other options and a word of caution. Historically, Jasper Jacobs books from Amazon were very popular with our group members around 2020 and 2021. However, these were last updated in 2018 and 2019 which makes them quite far behind the current version of the body of knowledge.
Feedback from our group is that they are considerably easier than the real exam. We mention them because they are affordable and our community members reported them useful in terms of indicating weak points, or course content that they need to concentrate more on.
There are two books – A practice exam (90 questions) and a case study edition (90 questions from 18 case studies). Available on Amazon here:
European Privacy Law Practice Exam: By Jasper Jacobs, CIPP/E, CIPP/US, CIPM, CIPT
European Privacy Law Practice Exam – Case Study Edition: By Jasper Jacobs, CIPP/E, CIPP/US, CIPM, CIPT
Online sample questions
Our members occasionally mention using Udemy courses and sample questions as well as Quizlet flash cards. However, these have always come with mixed (and honestly, mostly negative) reviews.
If you find a good set of accurate questions then the consensus is that they are beneficial but there are a lot of badly written (or plain incorrect) ones out there. These can lead to huge confusion if you are not already confident in your knowledge.
If you do choose to use these, our recommendation is to use them towards the end of your studies so you have learned enough to be able to identify right from wrong
CIPP/E websites and videos
This CIPP/E study guide would not be complete without mentioning the many free resources available online. These are resources that alone, would not be enough to prepare you for the exam, but are excellent add-ons if you have covered all the topics and feel like you still need more information.
Websites
The UK Information Commissioners Office (ICO) – a few community members used this site in their studies. It's a favourite of ours for really easy to understand explanations of various concepts and topics.
It also has real-life examples, handy if you're having difficulty understanding how a scenario would play out in the real world. Just to note – as the UK data protection landscape continuously changes post-brexit, this site may become less relevant over time.
GDPRhub collects and summarises decisions from Data Protection Authorities (DPAs) and courts across Europe. This wiki site grows daily with new GDPR-related decisions and knowledge. They monitor over 100 webpages across EU member states for new decisions so it's a great source for the most up-to-date news.
Videos – CIPP/E Study Guide
The Council of Europe's modernised Convention 108 on Data Protection
Using Legitimate Interests as legal grounds for Direct Marketing
Koen Lanaerts: The GDPR 5 months on
European Union Institutions related to GDPR for studying for CIPP/E
How does the EU work and why is it so complex?
Taking the CIPP/E exam
You've finally made it, you have read every detail of this CIPP/E Study Guide and exam day has arrived. Candidates currently have the option to take the exams remotely or in person at a test centre.
CIPP/E exam remote proctoring
The IAPP is currently offering the option to take the exams remotely via their partner Pearson Vue or in person in an approved test centre.
Some of our group members have commented that the remote proctoring experience can be challenging. One person reported technical issues and being unable to scroll properly through the exam (the pre-exam system check didn't allow for scrolling to be tested).
Another member reported that they had no webcam connection, in spite of it working every time in numerous pre exam system checks. Another reported they waited in a queue for an hour before beginning their exam. You can look through the posts in our Facebook study group for more details on candidates' experiences.
In the event of any issues, it takes 3 – 5 business days for IAPP to investigate your claim.
In addition, take note of logistical preparations, make sure your mouse and keyboard are fully charged, know how to increase the size of the text on your screen – some members have reported the text comes up very small on the screen.
Be prepared to disconnect all monitors and keyboards if you use a docking station. You may also need to remove them from your desk and show this. There are many rules and regulations around the online proctoring, make sure you are familiar with them and be prepared to accommodate additional requests.
CIPP/E study guide exam tips and strategies
Here are some exam tips and strategies recommended by our group members:
Pay attention to detail! Many of the answer choices are similarly worded. Read each answer carefully before answering
Eliminate any answers you know are incorrect first and then decide between the remaining ones
Don't dwell. If you feel like you're taking too long on one question, mark it and come back to it at the end. You may learn more information in the remaining questions that will help you to find the best answer for questions you were originally unsure of.
If a scenario-based question, then read the question BEFORE reading the scenario. There can be a lot of irrelevant information in the scenario, as a result, reading the questions first will help you to filter this out.
Don't go back over questions you have already answered – there is little time for second-guessing yourself
Remember, the above are pointers from members of our group but everyone has their own exam strategy. If you have your own methods that work, stick with it! Better still, share your wisdom in the group so others can benefit.
After the CIPP/E exam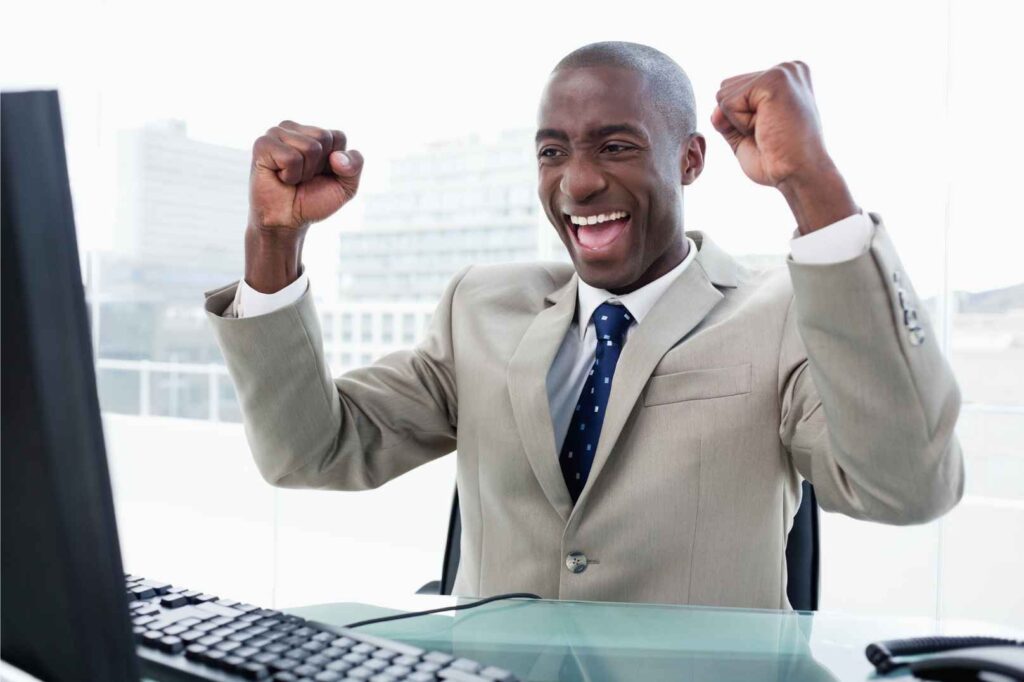 If you fail, hard luck, but you are not alone! This is a difficult exam but you CAN pass with the right preparations. Do not be disheartened. You must wait 30 days and then you can schedule a retake and pay the $375 fee to the IAPP.
If you took a training course, review the terms and conditions because many providers offer you a money-back guarantee if you have failed.
If you pass – congratulations! As soon as you finish the exam, your result will come up on the screen. In addition, this result will be emailed to your IAPP registered email address. IAPP will also send you a link to your PR toolkit, which is accessible from your profile on the IAPP website. This consists of:
A news release template, ready for customization
Tip sheets for engaging with the media, including local news outlets, blogs, trade magazines, newsletters, professional journals and alumni publications
Suggestions for showcasing your certification to your professional network using the features of your new electronic certificate
***You are not fully certified until you pay the $250 certification fee or IAPP membership. You can do this after you pass or in advance of taking the exam so your certification will automatically activate once you pass***
Does the CIPP/E certification expire?
Your certification is valid for 2 years from the date of passing the exam. During this time you must earn 20 Continuing Privacy Education (CPE) credits and pay the maintenance fee of $250 every two years.
This fee is included in your IAPP annual membership or you can pay it directly if you're not a member. You do not have to take the exam again at the end of your two year cycle. Simply earn the required number of CPEs, pay the fee and you will remain certified.
The IAPP website is very helpful in providing some resources for earning CPE's. You can filter the content to find the CPE resources most relevant to you.
CPE's are not limited to IAPP specific resources, CPE's can also be earned from attending industry conferences, attending privacy training and a number of other activities, all outlined in the IAPP CPE policy.
Wrapping up the Ultimate CIPP/E Study Guide for 2023
Congratulations on making it to the end of our ultimate guide to passing the CIPP/E in 2023! We know your hard work and dedication to your studies will pay off. If you found this guide helpful, we would love for you to share your preparation experience with the community, telling us what worked for you, what didn't and how you found the overall certification experience.
If you're planning to add another IAPP certification to your list, consider joining one of our other study groups for CIPT, CIPP/US or CIPM. Finally, don't forget to link to this CIPP/E study guide from your own website or share it with colleagues who are preparing for the CIPP/E.
Best of luck with your studies, and thank you for being part of our community!