I didn't do much research into finding the best CIPP/E course before deciding to become a Certified Information Privacy Professional. My employer bought the official IAPP training for me. I read the book, watched the online modules and did the 25 sample questions.
However, as a novice in the industry back then, I still did not feel adequately prepared. At that time, my search for other training courses, trial exams, books or videos was unsuccessful. I am glad to say those days are over.
Thankfully there are a wide variety of study resources for exam candidates to choose from now. In this article, we'll describe the types of CIPP/E training courses available and help you choose the best CIPP/E course for your needs. We'll provide some recommendations and special offers at the end of this article.
This CIPP/E Study Guide post contains affiliate links. When you buy through links on our site we may earn a small commission. As an Amazon Associate we earn from qualifying purchases. This helps us keep our website and study groups up and running at no additional cost to you
Getting a CIPP certification
The path to getting your CIPP/E certification can take many turns and won't be the same for everyone. Your learning style, prior work experience, budget and available time will all be factors in determining the route you take. Our Ultimate CIPP/E Study Guide will show you what resources are available to help you pass the exam
If taking a CIPP/E training course is on your agenda, read on. We have focused on CIPP/E, but the advice applies when choosing a course for any CIPP qualification or privacy certification.
Do I need to take a CIPP/E course to pass the exam?
In a word, no. It is absolutely possible to pass the CIPP/E by self-studying. Many people in our Certified Information Privacy Professional study group choose this option. It works well if you have very little budget and lots of time to prepare for the exam. However, there are a few reasons you might want to consider taking a course.
Why should I take a CIPP/E course?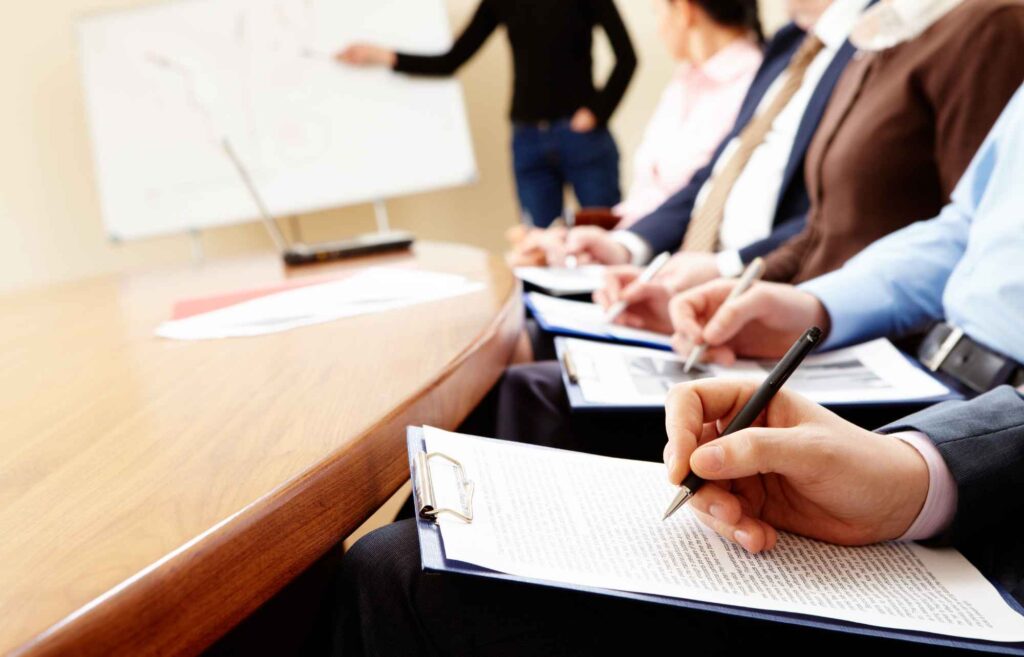 Your learning style
Do you learn best when you have someone pushing and motivating you? Is interactivity with other students important to you? Having someone to hold you accountable can be a great motivator. Self-disciplined students may be happy to study alone without the help of an instructor.
Do you prefer to be guided or directed through your learning journey? Having someone lay out a plan for you can save time, both in finding out what you should be studying and in organising your tasks to cover everything efficiently.
Your budget
If you (or your company) have allocated financial resources to helping you achieve your goal, consider purchasing a course. The CIPP/E exam costs $550 to take the first time and $375 if you need to re-take it.
The best CIPP/E courses often come with a money-back guarantee. These all differ but usually, you will get a refund if you don't pass the exam after taking the course. Taking a course can save money in the long run as you won't have to budget for the re-take fee.
Access to experts
Taking a CIPP/E course often gives you access to an instructor or other experts in the topics you are studying. This can be invaluable if you have questions or need help understanding particular topics.
Bonus resources
Courses often come with useful extras that you won't find anywhere for free. These can include a CIPP/E study guide, study plans, timelines, a copy of the GDPR, sample questions, mock exams, revision notes or flashcards. If you want to save time, get organised and retain information in a better way, these extras may be invaluable.
Accurate, up to date materials
If you have searched online you have probably found free resources and wondered why you should pay for a CIPP/E course. The experiences of our study group members have shown us that free resources often contain inaccurate, misleading or outdated information.
As the exam draws near, candidates have realised they have learned from poor quality materials and are not prepared for the exam. In particular, cheap or free sample questions are often wrong, outdated or not representative of the CIPP/E exam difficulty level.
Students can feel a false sense of preparedness from passing sample exams that are much easier than the real thing. There are also topics within European data protection and privacy that are evolving and changing frequently.
Having the latest information on topics like Data Protection laws, International data transfers, Impact Assessments and Artificial Intelligence is crucial.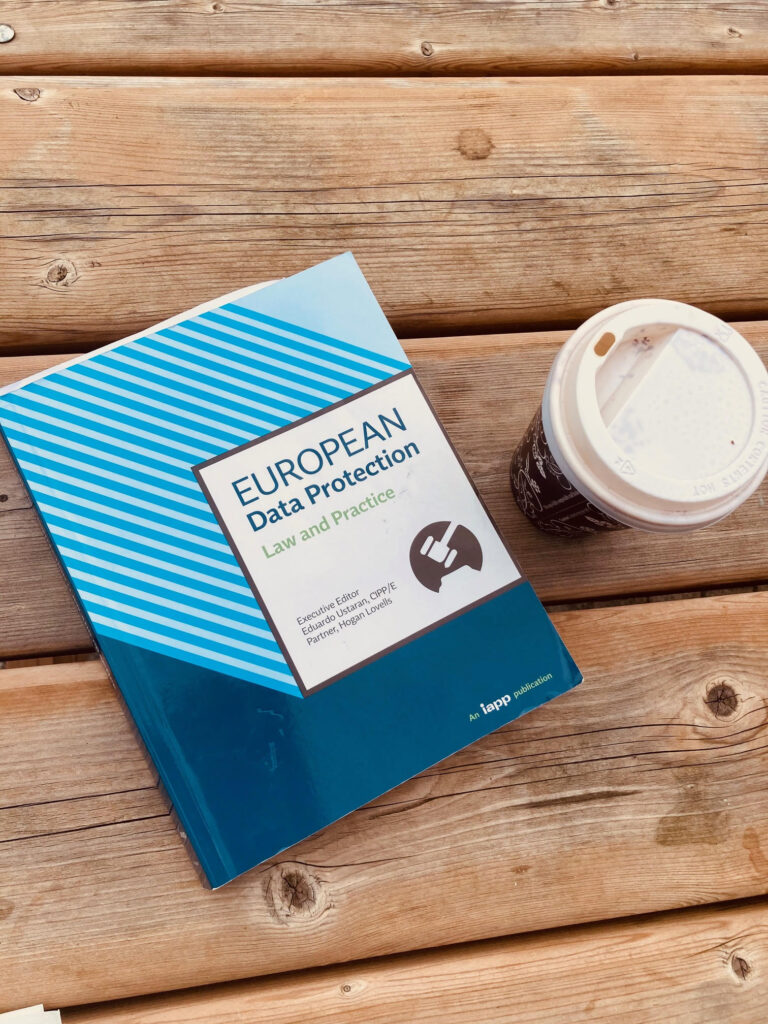 Types of CIPP/E courses
In-Person or virtual with a live-instructor
These courses take place in-person, in a classroom or virtually, (perhaps via video-call) with a live instructor. They usually take place over a few full days, or done in blocks of a few hours on specific times/days as set by the instructor.
There are often other students in the class. The price of the course usually includes all materials (e.g. books, documents, sample questions) you'll need to pass. These types of courses tend to be the most expensive.
Self-paced online courses
You can do your CIPP/E training online, on a learning platform, without any instructor. These courses are usually made up of written modules/notes or video lectures. Quizzes will test your knowledge as you complete each section.
You can generally proceed through the content at your own pace and re-do sections if you need to. The courses may include a study plan, revision notes, sample questions, flash cards, and other tools. However, you still may need to purchase books or other resources to supplement your learnings.
Short, topic-specific courses
These are usually in video format and are found on platforms like LinkedIn Learning, Udemy or Coursera. Rather than covering all of the contents of the CIPP/E body of knowledge, these videos address one topic in depth. This can be useful for people with prior industry experience who just need to brush up on one or two knowledge areas in particular.
Updates to the recommended text book for the CIPP/E (European Data Protection, 3rd edition) are not as frequent as updates to the Body of Knowledge. Topics on the exam may not all be covered in the book. These short courses are a great way to close that knowledge gap and are often the least expensive option.
However, exercise caution when dealing with free resources and ensure they are accurate and up to date before committing too much time to studying them.
22Academy provides 9 focus courses on specific CIPP/E body of knowledge topics. These average around 18 hours each and are available at a 25% discount to our readers.
***Take 25% off by entering the code STUDYGROUP25 at checkout***
How do I choose the best CIPP/E course?
Choosing the best CIPP/E course for your specific needs can be a challenging task, as there are many factors to consider. These questions can help you decide:
Course topic and content
Is the course relevant to your goals and needs at this time? Does it cover the topics that you are interested in, and does it provide the level of depth and detail that you are looking for? This is particularly relevant when you consider your previous industry experience or training. You may need a very detailed course if you're a beginner or something much less in-depth if you have many years of experience
Format of the CIPP/E course
Will the course be delivered in-person, online, or a combination of these? Is the course self-paced or instructor-led, and does the format work for your learning style? Are there options for customisation to meet your specific needs?
Do you prefer text-based notes or video and audio lectures? Do you need frequent practical exercises and knowledge tests? Does the required time commitment fit your schedule?
The creator or instructor
What are the qualifications and experience of the creator or instructor? Do they have a proven track record of successfully teaching the material, and do they have good reviews from previous students? Furthermore, can they be easily contacted for additional support if you need it?
The cost of the course
Is the cost of the course within your budget? Is it good value for the content and instruction that you will receive? Are there any discounts available?
One way to find potential training courses is to ask for recommendations from colleagues, friends, or industry organisations. You can also search online for courses in your field or area of interest, and read reviews and testimonials from previous students to get a sense of the quality of the course.
Once you have narrowed down your options, you can contact the course provider to ask any additional questions that you may have and make sure that the course is a good fit for you. Our study group on Facebook contains hundreds of posts from previous exam candidates outlining the resources they used and their thoughts on how well these courses, trial exams and books prepared them for the exam.
This is a great place to ask questions and find out more from students (and even some course creators) before making a purchase.
Is the IAPP's CIPP/E training course worth it?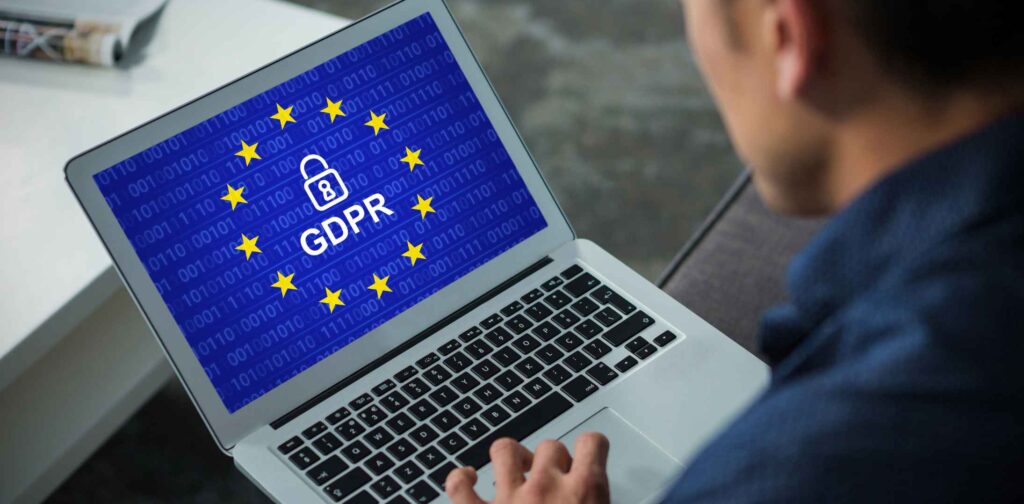 Of those in our study group who did take the official IAPP training, the ones who took the online course (self-paced, no interaction) found this less useful than those who took an in-person or live online course.
Having an instructor to speak to or a live class to hold discussions with was helpful, particularly if the trainer was skilled and knowledgeable and provided sample questions or extra readings. The self-paced online course has often been described by our group members as "too high-level" and I also found that to be the case.
The modules were a helpful intro for beginners but students in our group who took this course usually did additional reading or purchased further resources to supplement their studies.
ANAB CIPP/E course accreditation
Before selecting official IAPP training, it's important to consider this fact; For the purposes of ANAB accreditation, IAPP training and IAPP exam creation departments are totally separate. The people involved in providing training courses or books are not (and cannot be) involved in creating the exam questions.
What this means is that anyone, essentially, can create and sell products that prepare you for the CIPP/E exam. This is why it is really important to consider the questions above (about course quality, content, instructor etc) when selecting your training provider.
The CIPP/E Body of Knowledge document lists all the topics that are fair game to be assessed on the exam. Anything that is not on the BoK will not be examined. That's part of the ANAB accreditation criteria. That's how they keep the test fair for everybody and ensure that everyone has an equal chance to pass, whether taking IAPP training, studying on your own or using other third party courses.
What is the best CIPP/E course?
In reality, there isn't just one, best CIPP/E training course. What works for one person may be totally wrong for someone else. A crucial first step is to spend some time on self-assessment. Learn what your study style is and evaluate how much you already know. All the points above will help you to do this self-assessment and find a course that works best for you.
There are now many courses on the market. We have reviewed two that we recommend to our group members and there are also generous discounts available on these.
Inhousew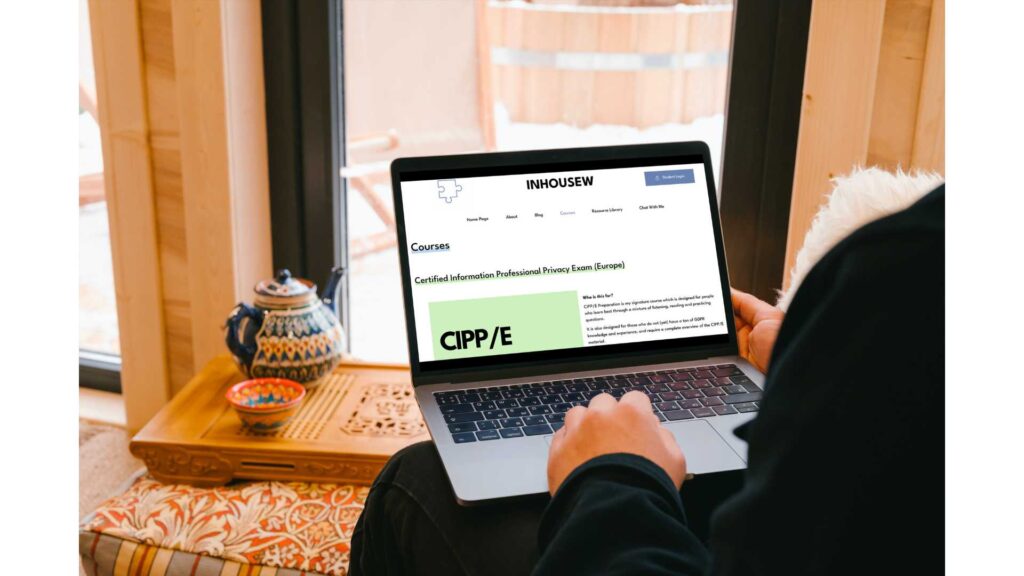 Inhousew offers a comprehensive CIPP/E Preparation Package including self-paced video lectures, downloadable lecture slides, revision notes and 90 question PDF mock exam plus answer key. There is a 25% discount available on the full package. The revision notes and exam are available to purchase as stand-alone products and there is a 10% discount on these.
What can you expect from the course?
Short (avg. 3-5 mins) video lectures on each area of the Body of Knowledge. Easy to dip in and out on your mobile device when you have spare time
Flexible study plan tells you how long it will take to complete the course depending on how many hours per week you can dedicate
Slides are downloadable for you to write your own notes on
Full set of downloadable revision notes, including summaries of the key EDPB guidelines
90 qs downloadable mock exam and answer key
What we loved:
This great CIPP/E preparation course overview video
Accuracy of information is excellent
Combination of video, audio and written notes is flexible for all learning styles
User-friendly interface
Fully up to date with the latest Bok topics.
Money-back guarantee
If you don't want to take the full course, you can purchase the revision notes incl summaries of EDPB guidelines or the mock exam as separate stand-alone products
Things to know:
Recommend you also buy a copy of the IAPP book European Data Protection to accompany this course
25% discount applies to the course if purchased in full. If you wish to purchase in 2 payments, the discount applies only to the first payment.
If you wish to purchase the revision notes or the mock exam separately from the course, the discount is 10%
*** Use PAGEGROUP25 for 25% off the course or PAGEGROUP10 for 10% off the revision notes or mock exam***
Purchase the Inhousew CIPP/E course here
22Academy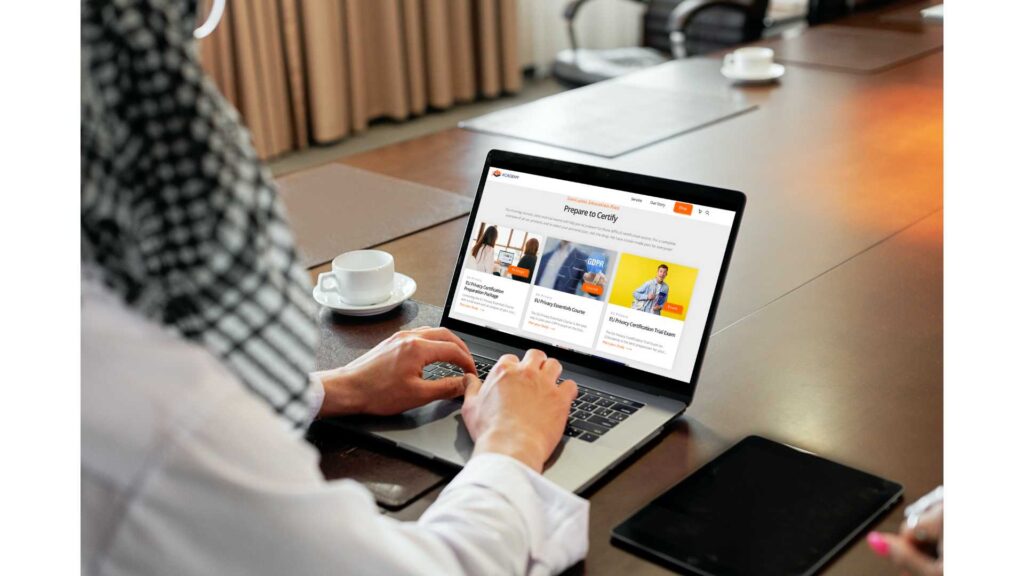 22Academy offers an EU Privacy Certification package which includes a guided self-study course, flashcards, trial exam and a personal analysis of your results. This course is offered at Beginner, Intermediate and Advanced levels so if you have some experience already, you won't waste money and time buying something you don't need.
Not sure what course is best for you? Take the free assessment quiz to find out your current knowledge level.
If you don't need a full training course, 22Academy also offers focused courses which are deep-dives into specific topics from the CIPP/E body of knowledge. These are great if you have been working in the industry and are very experienced in some topics but not in others.
They are also really useful for anyone who has previously failed the CIPP/E exam and just needs to focus on one particular area to prepare for the re-take.
A 25% discount on these courses or the standalone trial exam is available to our readers by using code: STUDYGROUP25 at checkout.
The trial exam is certainly a favourite of our study group members. You take it online, it's timed and reflects real-world exam conditions. At the time of writing, 100% of candidates who took the exam along with the analysis of their results, went on to pass the real thing.
What can you expect from the courses?
The main CIPP/E certification course is divided into 18 written modules that take 3-6 hours each. Modules map to relevant chapters in textbook and contain detailed summaries of key topics, links to additional readings and quiz questions
Select a date for the trial exam and a study schedule will automatically be created for you
Type your notes inside each module – these are converted to PDF and available to download
100+ double sided flashcards containing glossary of terms for you to print out. Includes blank templates for you to make your own cards.
Online, timed, trial exam with instant results that replicates the conditions of the real exam.
The shorter focus courses (there are 9 available) deep dive into specific topics from the CIPP/E body of knowledge. These average around 18 hours each.
What we loved:
Highly accurate and completely up to date with current version of the CIPP/E Body of Knowledge
Very detailed, step by step instructions walk you through every part of the process, from purchasing and booking the exam to exactly what to study to paying your certification maintenance fee or IAPP membership
Extensive links to additional readings
Detailed analysis of exam results and recommendations for what to study to strengthen weak areas
Money back guarantee
Trial exam available to purchase separately if you don't want to take the full course
No need to purchase any additional books
Audio playlists of the content you can listen to while on the go, out for a walk or driving
Things to know:
You can take the trial exam only once
Must complete each module in order to proceed to the next one
***Take 25% off by entering the code STUDYGROUP25 at checkout***
Purchase the 22Academy EU Privacy Certification course here or any of the CIPP/E focus courses here
***Bonus offer***
PRIVASY.eu together with 22Academy.com is now offering an elite package, CIPP/E Coach, to help you pass your exam in 30 days.
It includes one-on-one coaching sessions, a full training course, guidance from start to certification, trial exams, and many study tools. Find out location specific information below:
Use coupon code STUDYGROUP50 to get a €725 discount.
Because the program includes Personal Coaching Sessions, there's a limited number of seats available.
Wrap-up: Finding the best CIPP/E course
Ultimately, the best way to determine if a training course will work for you is to try it out and see if it meets your expectations and helps you achieve your learning goals. The creators of both CIPP/E courses above are available to answer your questions.
You can contact them via their websites or indeed, post questions for them in our CIPP/E study Group. Best of luck with your preparations and enjoy your journey to becoming a Certified Information Privacy Professional!